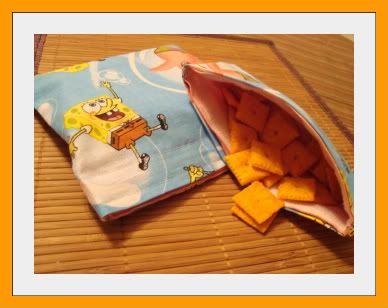 I whipped up four more of the cloth baggies this weekend from a Spongebob remnant. Man, I love remnants for projects like this. I get plenty of fabric for the project I need to do and it's really cheap.
These bags were definitely a different experience from the larger bag I made for my husband. I changed up the way I was doing the lining for a much more professional appearance. Of course, a better looking finished product means they were a much larger pain in my rear to actually assemble.
I made the snack sized bag too small. It isn't deep enough to go over the arm of the sewing machine, that was NOT a fun thing to discover. Unfortunately it was a discovery I made
after
I had already cut the fabric for two and I am way too stubborn to just throw the cut pieces into the scrap bin.
Now I just have to wait and see how they hold up in the lunch bags.