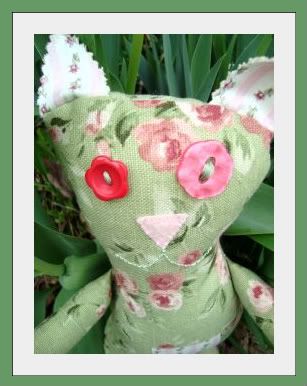 This is...uhm...Steve the cat. Somehow I can't quite bring myself to call this cat by its name, or even him.
Steve is a pattern in
30 Colorful Quilt and Patchwork Projects
. I checked this book out of the library recently and was sorely disappointed when I couldn't renew it (some other crafty lady placed a hold on it...grrr).
I really liked it, though I have to admit that the negative reviews I've seen do have a point. For a book with quilt in the title, there are very few quilts. I enjoyed the projects in it though. I loved that quilting techniques were used in so many projects that you wouldn't think of. Sure, oven mitts are quilted, but aprons? Stuffed animals?
Greeting cards
?
It was a nice piece of inspirational eye candy. I particularly loved old Steve here (Stephanie?). I love that it has purposely mismatched eyes and a body that isn't symmetrical. I usually tend to make my things so that they look like they came from a store. It's nice to be reminded that imperfection is equally adorable.
P.S. I made this cat for one of my readers. I promised her a long time ago that I would make her a stuffed animal and picked out this fabric for it. I just could not figure out how to make that pattern with this green floral. So, while I still owe her that animal, I can now sleep soundly that she will have at least
something with this fabric that I thought was so perfectly her.