I have been working my tail off on my mother-in-law's purse and writing little bits of the tutorial at night before bed.
Turns out that sleepy is not the best state of mind in which to do math. I ended up cutting and sewing enough patchwork pieces to make one and a half purses. So I decided if I was already half way there, then I needed to just buckle down and make two.
Now, I'm not a complete idiot. I am holding off on the quilting and lining of the second bag until a later date...sometime after my mother-in-law's purse
and
the taxes are done. But for the moment, and the next little while, I will not have anything new to post.
I am hoping to appease you all with more photos of cute things I made...this time, with kids in them.
My step-daughter, wearing her "kissing chickies" shirt while hunting eggs in the park.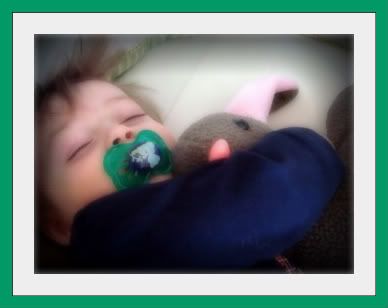 And my son, cuddling up with his bunny for a nap.
See? Adorable, right? I'm officially letting myself off the hook for my bad math and slower than Christmas tutorial.