I was paging through the May 2009 issue of
Quick Quilts
with my step-daughter over my shoulder when she saw these little chicks appliqued on a tea towel.
She had to have one, and a bird ornament too.
She really has no need for a tea towel, or a bird ornament, so I did the old standby, "We'll see. Maybe." I found this pale yellow tee in her size on the clearance rack at Target and thought, "Oooohhh...chick applique!"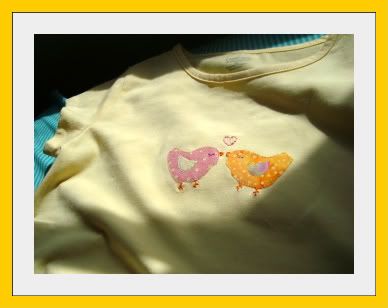 I added half moon closed eyes, a little heart between them and a third toe...I thought they looked kind of funny with two. I'm putting this sweet shirt in her Easter basket right next to her bunny. I contemplated adding some broken egg shells to make it more appropriate for the holiday, but then I thought of how much I would cringe when she wanted to wear the hatching Easter chicks shirt in July. Nope. It's fine as is.