Okay, so Mother's Day is still a few days off, but I will be out of town for the actual occasion taking my mother's gift to her. My mom expressed a want for a little counter top herb garden, so she got several of these cute little planters and a packet of herb seeds to go in each.
I found these adorable tiny watering cans in the dollar bins at Target (right next to the planters) and grabbed a couple up. I knew I wanted to paint something for each Mom and they were just perfect!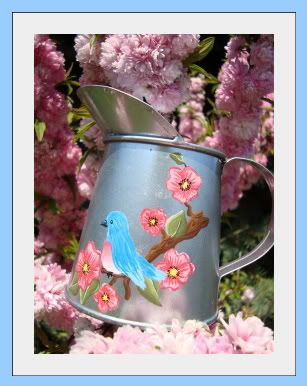 I am not the best painter in the world, but I try hard. Usually my creations turn out somewhere slightly elevated from cartoons, just like this, for my mother-in-law.
I got my mother-in-law a planter complete with potting soil and flower seeds for her own little indoor garden too, and had every intention of painting something on it. However, the painting always goes slower than I think it will, and I ran out of time. I made this little fabric ribbon and rose in the same colors I used for her watering can to dress it up a little. It makes me feel slightly better about shipping the planter unpainted.
Happy (early) Mother's Day to all of you moms out there!