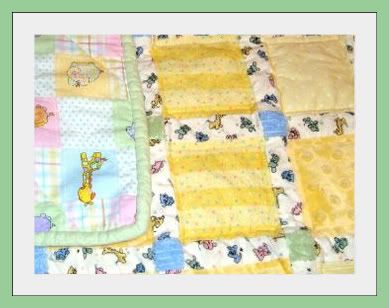 The baby quilt is done! I feel this huge sense of accomplishment. I made a quilt...albeit a baby quilt, I still completed an entire blanket.
Wahoo
!
The quilt is both a congratulatory gift and a thank you gift for a man my husband works with. Back in August my husband lost his job. It took
three months
for him to find steady work with a former employer. This guy knew how much we were hurting and actually took time off, gave up entire days of work, just so that our family could have some money coming in. In the midst of all of this, he found out his wife was pregnant.
We really feel like their sacrifice for us deserves some kind of gesture. There is no way we can repay them the money they lost out on helping us, but I do have a fabric stash and a sewing machine. I truly hope that they love it, and that their baby boy or girl (they're going for the big surprise) gets plenty of use out of it.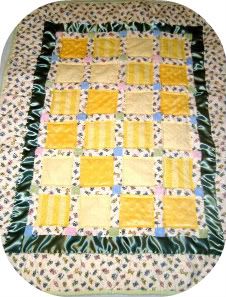 I must say though, that I am sort of disappointed in how the pictures of it turned out. In person it's so soft and cute. Just holding it made me wish I was bringing home a new baby. Sigh...