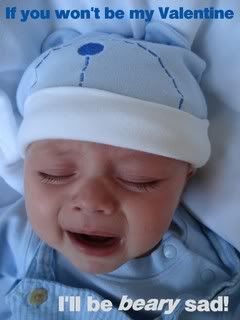 Last year I made my son into Valentines. I wanted to do it again this year, but a 15 month old just isn't as easy to pose as a 3 month old. Who knew?
I'm posting my Valentine because that is still one of my favorite pictures ever, and because I have been slacking on the crafty lately. My creativity has been limited to picking out whole new settings for my table (to compliment a perfectly planned romantic Valentine's Day dinner for my husband) and finding just the right frame and matting for each and every one of the adorable 1 year photos of my son.
Slacking has been kind of nice, but I'm a little stressed thinking about all of the things I want to get done. I am in desperate need of a new purse. Perhaps I'll take a break from working on things for other people and do something for myself. Of course, making the purse means I actually have to decide which fabric from my stash I want to use...I am much better at being decisive for others.